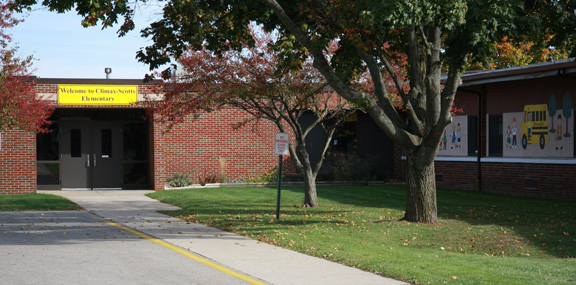 Welcome to Climax-Scotts Elementary School
School Supplies & Teacher Wish Lists

CLICK HERE for the Student Supply List and Teacher Wish List
Share Your Thoughts
Below are two links for online surveys that will help keep us informed of how you think we are doing. The top survey is for parents to take and the second one is for students. We appreciate your feedback.
Parent Link: http://www.surveymonkey.com/s/L7BLC2J
Student Link http://www.surveymonkey.com/s/8ZGT6Q6
Our Programs
We proudly offer Pre School, Kindergarten, 1st - 5th Grades and Kids' Corner Day Care Before and After School. Please come visit our fantastic facilities and let our caring and professional staff welcome you!
Mrs. Teri Peters, Principal
11250 East QR Avenue
Scotts, MI 49088

Phone: (269) 497-2100

Fax: (269) 497-2127
Climax-Scotts Elementary Highlights

Teaching Strategies & Classroom Organization
Remedial Summer School (K-5)
Three Computers with Internet Access in Each Classroom
Media Center with Full Computer Lab
Special Education Program for Students with Special Needs
District Wide School Social Worker
Pre-School Program for ages Three and Four
Title I Reading Recovery Program
Parent Support Groups - PTA, Parents Group (K-5)
"Girls on the Run" grades 3 - 5
Programs to address Drugs and/or Violence
Curriculum

Traditional Settings
Math
Reading
Science
Social Studies
Health
Physical Education
Music
Library
Class Size

K-5 Averages Approximately 17 Students per Class